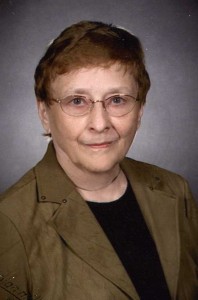 J. "Marillyn" Chapin, 82, of Dickinson, passed away November 21, 2015 at her home surrounded by her family. Marillyn was born April 22, 1933 to Albert Sr. and Julia (Witt) Henning in Evanston, Ill. She grew up on a farm in rural Iowa. She married John Chapin May 19, 1951. She is preceded in death by her parents, her husband, brother Albert Henning, Jr., and a great granddaughter Teresa Chapin
Marillyn is survived by her four children, Pamela Chapin, Mark (Nancy) Chapin, Jeffrey (Dannette) Chapin, and Brian Chapin; seven grandchildren Stephanie (Leonard) Tolman, Thomas Chapin, Nicholas (Alexa) Chapin, Allison (Dustin) Kiss, Andrew (Lauren) Chapin, Garrett Chapin and Breanna Chapin; seven great grandchildren, Lauren and Katie Tolman, Colten, Beaudyn, Kayden and Gracyn Chapin and Kamryn Kiss; a brother David Henning; and a sister Carol Estes. Her grandchildren and great grandchildren were her pride and joy.
She was a member of Peace Lutheran Church in Texas City. She was very active in the Church Ladies Guild and Lutheran Women's Missionary League until her health failed. Memorials should be sent to Peace Lutheran Church in Texas City, American Cancer Society or American Heart Association. Thanks to A-Med Hospice team for their help and support.
A visitation will be held Tuesdaymber Marillyn as the ultimate host a